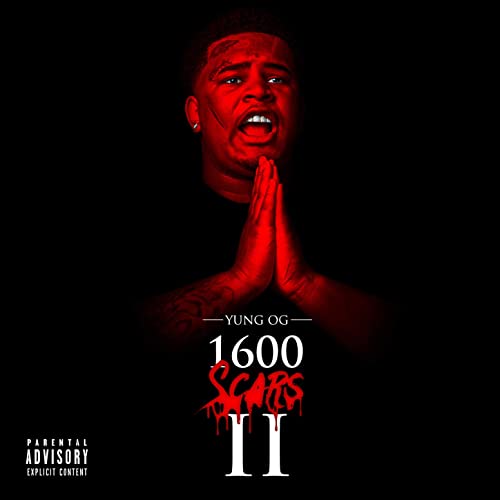 The songwriter and producer of hip hop known as Yung OG has released his latest official album, "1600 Scars 2." The album contains 12 original Yung OG tracks for an approximate total listening time of 35 minutes. It has been proudly published as an independent release without the involvement of the corporate music industry on the Beat Juug Music record label. A stylish, melodic hip-hop record with plenty of clout for radio play or just earbuds around town, "1600 Scars 2" showcases Yung OG as one of the most intriguing hip-hop artists of the year so far and promises that he has plenty more where that came from.
In addition to the considerable skills of Yung OG, himself, "1600 Scars 2" also features the talents of MoneyMarr (Track 7) and NoCap (Tracks 6, 7, and 12).
Mobile, Alabama's Yung OG cites as main artistic influences Tupac Shakur, the Hot Boys, Jay Z, Pimp C, Future, and Boosie and Webber.Yung's own sound takes elements from each of these and adds his own orchestrated delivery for a result which works in cars, headphones, or popular nightclubs alike. With an emphasis on classy vocal work and aggressive urban poetry, "1600 Scars 2" by Yung OG has a little something for everybody.
Asked to describe the overall meaning of "1600 Scars 2," Yung OG writes, "It shares a story. The things I got through and been through, the good and bad. A lot of pain, emotions, and fun."
The title of both his debut and new album, "1600 Scars" and "1600 Scars 2" comes from his home, the 1600 block in Mobile, of which he says, "I still live in my hometown, Mobile Alabama (1600) and that's where everything started."
Since that long-ago time, Yung has performed live in Florida, Georgia, Texas, and Mississippi as well as in his own state of Alabama, or as Yung calls it: "Just the south region. It's about to get bigger."
Yung OG has been a lyricist almost as long as he's been a fan of hip hop. He has said that he first became interested in music because he loved "being able to understand what I'm listening to and the feeling I get from the music." For that reason, it's perhaps no surprise that he makes music "to express my thoughts, feelings, problems and myself. To help others who're going through or been through the same thing as me."
To his listeners new and old, Yung OG has this to say: "It's only going to get bigger and bigger. Also free NoCap and the birds 1600."
"1600 Scars 2" by Yung OG on the Beat Juug Music label is available from over 600 quality digital music stores online worldwide now. Get in early, hip-hop fans.
-S. McCauley
Lead Press Release Writer
"1600 Scars 2" by Yung OG –