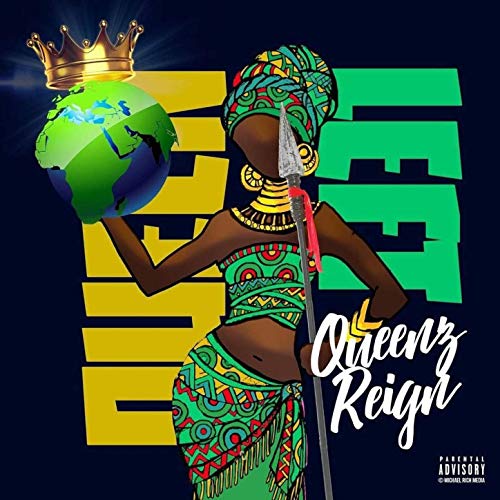 KINGSTON, Jamaica, 2019-Jul-27 — /EPR Network/ —
The songwriter and producer of hip hop known as QueenLEFT has released her latest official EP album, "Queenz Reign." The EP album contains five original QueenLEFT tracks for an approximate total listening time of 20 mins. It has been proudly published as an independent release without the involvement of the corporate music industry. Direct, heavy-hitting, and one-hundred-percent genuine, "Queenz Reign" showcases QueenLEFT as one of the most intriguing hip-hop artists of the year so far and promises that she has plenty more where that came from.
Rochester, NY's QueenLEFT cites as main artistic influences Erykah Badu, Michael and Janet Jackson, but mostly Tupac Shakur and Lisa "Left Eye" Lopes (TLC). QueenLEFT's own sound takes elements from each of these and adds something fresh and unique for a result unlike anything today's music fans have heard before. With an emphasis on gritty storytelling, old-school styled back beats, and seemingly unlimited amounts of personality, "Queenz Reign" by QueenLEFT has a little something for every fan of rap and hip hop.
QueenLEFT has been described as "an artist who not only wants to change the music scene with her authenticity but also change the game by bringing value and purpose in her craft of rap and singing."
Asked to describe the overall meaning of "Queenz Reign," QueenLEFT writes that it is "To recognize your power and stand in it confidently."
The music of QueenLEFT is particularly rooted in a blend of the visions of Tupac Shakur and TLC's Left Eye.
"She'd seen not only could she relate to these two musical geniuses on a personal level," says a QueenLEFT representative, "but also the subject matter and socially conscious vision they held in their music and spoke publicly of. Being engaged in that, queen realized her purpose in life was not just to emulate the music of her idols but to also incorporate her own style, innovative lyrics and music."
"Queenz Reign" is produced by Troy "GhostWridah" Jeffery of Rebellion Records and executive produced by Troy "GhostWridah" Jeffery of Rebellion Records and Charles Kendrick of Slant Entertainment LLC.
"Queenz Reign" by QueenLEFT is available from over 600 quality digital music stores online worldwide now. Get in early, hip hop fans.
-S. McCauley
Lead Press Release Writer
http://www.Octiive.com
"Queenz Reign" by QueenLEFT –
https://www.amazon.com/Queenz-Reign-Explicit-QueenLEFT/dp/B07T5XZHXJ/
QueenLEFT Official Website –