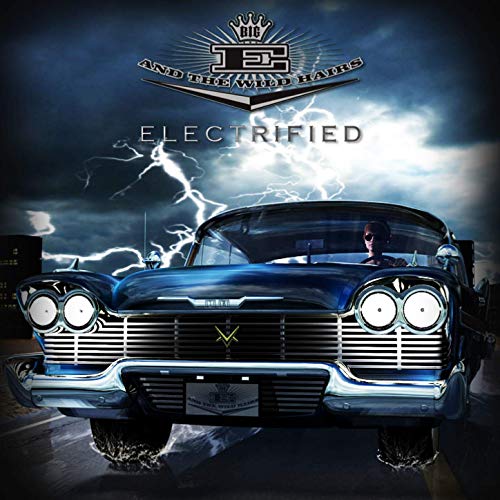 The modern classic rock crew known as Big E and the Wild Hairs has released their latest official album, "Electrified." The album contains 11 original Big E and the Wild Hairs tracks for an approximate total listening time of 50 mins. It has been proudly published as an independent release without the involvement of the corporate music industry. Rolling on tried and true grooves yet blazing brand new trails for the 21st century, with "Electrified" Big E and the Wild Hairs prove they're not just somewhere fun to go on a Friday night, but rather a legitimate addition to the rock and roll legacy every fan of the sound can appreciate.
The San Antonio area's Big E and the Wild Hairs cite as main artistic influences ZZ Top, Stevie Ray Vaughan, the Fabulous Thunderbirds, Rolling Stones, the Allman Bros., and Creedence Clearwater Revival. That said, their own sound changes from track to track while remaining rooted in the boot-stomping, octane-charged tradition of rock and roll. Bringing what fans want and what they didn't know they want in equal measure, "Electrified" by Big E the Wild Hairs has slightly more rock than roll and does both just at the right speed.
Asked to describe the overall meaning of "Electrified," Big E and the Wild Hairs writes, "Life is complicated, but it can be fun with the right outlook. There are so many fascinating characters out there to write about, and sometimes the character is you! Music is a great way to explore them all."
Dave Duggins and Eric Whittington of the Wild Hairs have been collaborating for 10 years after having respective music careers in a variety of styles. Duggins has been known for his metal edge while Whittington's blues-rock sound grounds the Wild Hairs' signature style in the tradition fans have come to love. Their famous chemistry fuels both their music and stage performance.
Their current official bio describes Duggins and Whittington as "products of the southern US influenced by the region's swampy, sweaty style of music from country to soul to southern rock."
Dave Duggins is a multi-instrumentalist playing guitar, drums, keys, bass and more with several decades' experience as a sound engineer. Duggins also has credits as a novelist and a graphic artist. Eric Whittington began his trajectory in percussion but learned harmonica in his 20s, inspired by Kim Wilson of the Fabulous Thunderbirds.
"Electrified" by Big E and the Wild Hairs is available from over 600 quality digital music stores online worldwide now. Get in early, modern classic rock fans.
-S. McCauley
Lead Press Release Writer
"Electrified" by Big E and the Wild Hairs –

https://www.amazon.com/Electrified-Big-Wild-Hairs/dp/B084WKYRPX/