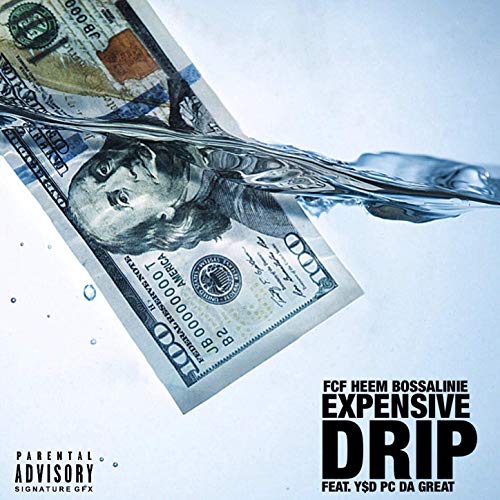 The songwriter and producer of rap and hip hop known as FCF Heem Bossalinie has released his latest official single, "Expensive Drip (Poison)." The single has been proudly published as an independent release without the involvement of the corporate music industry on the Sole Nation Music Group record label. Packed with power and sporting a glittering edge, "Expensive Drip (Poison)" showcases FCF Heem Bossalinie as one of the most intriguing rap and hip-hop artists of the year so far and promises that he has plenty more where that came from.
In addition to the considerable talents of FCF Heem Bossalinie himself, "Expensive Drip" also features a performance from Y$D PC Da Great.
The American South's FCF Heem Bossalinie cites as main artistic influences MF Doom, Jay-Z, Papoose, Eminem, King Los, Lupe Fiasco, Kevin Gates, and Andre 3000. FCF Heem Bossalinie's own sound takes elements from each of these and adds something fresh and unique for a result unlike anything today's music fans have heard before. With an emphasis on ultra-contemporary studio production and thrumming, bass-heavy overtones, "Expensive Drip" by FCF Heem Bossalinie has a little something for everybody.
Asked to describe the overall meaning of "Expensive Drip," FCF Heem Bossalinie writes, "That everything is a illusion and beware of all Poison!!!"
FCF Heem Bossalinie was born Raheem Jenkins and lives, writes, records and performs in Savannah, Georgia. Bossalinie's most popular official drop previous to "Expensive Drip" is his full-length album, "You Gon Have To Kill Me" (2014). Heem Bossalinie's remix of "Computers" by Rowdy Rebel has thousands of views on YouTube and continues to rack up notoriety.
"Expensive Drip (Poison)" by FCF Heem Bossalinie on the Sole Nation Music Group label is available from over 600 quality digital music stores online worldwide now. Get in early, rap and hip hop fans.
-S. McCauley
Lead Press Release Writer
"Expensive Drip" by FCF Heem Bossalinie –
https://www.amazon.com/Expensive-Poison-Explicit-Bossalinie-feat/dp/B083XJNRK7/
FCF Heem Bossalinie Official Instagram –
@fcf_heembossalinie