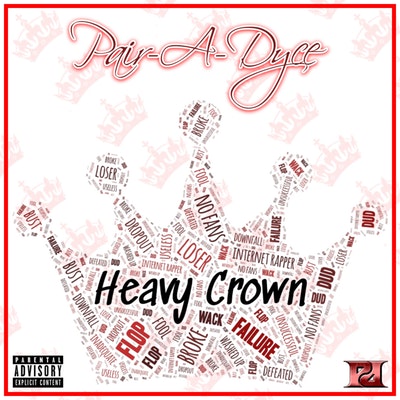 The songwriter and producer of hip hop known as Pair-A-Dyce has released his latest official album, "Heavy Crown." The album contains 10 original Pair-A-Dyce tracks for an approximate total listening time of 40 minutes. It has been proudly published as an independent release without the involvement of the corporate music industry on the United Masters record label. True, highly narrative, and bristling with the artist's signature style, "Heavy Crown" showcases Pair-A-Dyce as one of the most intriguing hip-hop artists of the year so far and promises that he has plenty more where that came from.
Jacksonville, Florida's Pair-A-Dyce cites as main artistic influences Royce da 5'9″, Chamillionaire, and Tupac Shakur. Pair-A-Dyce's own sound takes elements from each of these and adds something fresh and unique for a result unlike anything today's music fans have heard before. With an emphasis on rock-solid back beats, catchy, creative melody lines, and verbal gymnastics "Heavy Crown" by Pair-A-Dyce has a little something for everybody.
Asked to describe the overall meaning of "Heavy Crown," Pair-A-Dyce writes, "I put this album together without any features for the first time because I wanted to venture off and capture my own story. I wanted to share with the listeners the adventure of putting things in place and the burdens that it takes to do so. The title of the album is symbolic of that journey and the stories are the pathway to its release."
Pair-A-Dyce left college to complete a series of mixtapes ("Pair-A-Dyce Vol. 1-5") and apprentice under the famed Rap-A-Lot producer, Mr. Lee. His learning under Lee gave him the opportunity to engineer tracks on Slim Thug's popular LP record, "Tha Thug Show."
His current official bio closes with the description: "Using his experience to help craft his stories, Pair-A-Dyce crafts introspective views that listeners can relate to and vibe with day-to-day."
"Heavy Crown" by Pair-A-Dyce on the United Masters label is available at the official UM website online worldwide now. Get in early, hip-hop fans.
-S. McCauley
Lead Press Release Writer
"Heavy Crown" by Pair-A-Dyce –

https://unitedmasters.com/m/heavycrown
Pair-A-Dyce Official Website –