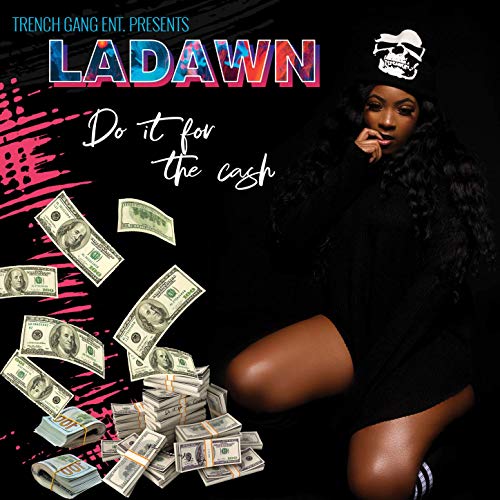 The songwriter and producer of rap and hip hop known as La Dawn has released her latest official single, "Do It for the Cash." The single has been proudly published as an independent release without the involvement of the corporate music industry on the Trench Gang Entertainment record label. Catchy, sexy, and ready for play in nightclubs and earbuds alike, "Do It for the Cash" showcases La Dawn as one of the most intriguing rap and hip-hop artists of the season and promises that she has plenty more where that came from.
Memphis, TN's La Dawn cites as main artistic influences Drake, J Cole, 2 Chainz, Gucci Mane, Cardi B, and K Michelle. La Dawn's own sound takes elements from each of these and adds something fresh and unique for a result unlike anything today's music fans have heard before. With an emphasis on bumping back beats, classic bass lines and an impressive performance from La Dawn, herself, "Do It for the Cash" by La Dawn has a little something for everybody.
Asked to describe the overall meaning of "Do It for the Cash," La Dawn writes, "The song is fun vibes that heightens the dance experience on the floor. It's an instructional hyped energy blaster."
It might not seem obvious from "Do It for the Cash," but La Dawn's songs often come from rough times.
"I have always loved the arts, drawing, writing songs and rap," she writes. "It gives me an outlet when I can't talk to anyone else or otherwise articulate myself, my feelings and my pain. I have been creative for as long as I can remember pain … Art and music give me a way to express myself and deal with whatever I am going through."
Nevertheless, the result is plainly upbeat.
"My sound goes with my energy," La Dawn says of this. "My energy is bright and hyper, clean and genuine. It expresses both the heart and mind, and others feel my songs because they're relatable. Pain is my musical stimulus; passion is my motivation for creativity."
"Do It for the Cash" by La Dawn on the Trench Gang Entertainment label is available from over 600 quality digital music stores online worldwide now. Get in early, rap and hip hop fans.
-S. McCauley
Lead Press Release Writer
"Do It for the Cash" by La Dawn –
https://www.amazon.com/Do-Cash-Explicit-Dawn/dp/B083QZTXHN/
La Dawn Official Instagram –
@ladawn_23