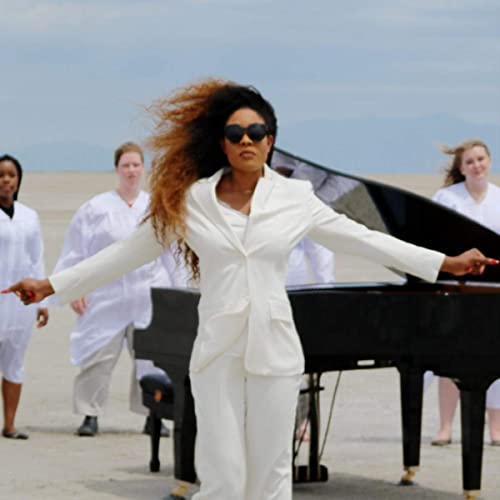 R&B singer, songwriter and producer, Yolanda Arrey, has released her latest official single, alongside its associated music video, "Darkest Hour." Yolanda has proudly produced this release independently without the involvement of the corporate music industry. With a gospel music heart and a classic Motown soul, "Darkest Hour" showcases Yolanda Arrey as one of the most intriguing contemporary R&B artists of the new era promising she has plenty more where that came from.
Yolanda cites her artistic influences as Whitney Houston, Adele, Michael Jackson, the Temptations, Jennifer Hudson just to name a few. Yolanda's sound takes elements from these artists, combined with her Cameroonian West African roots, creating a fresh and unique style unlike anything music fans have heard before. With an emphasis on elevation, inspiration, and raw emotion, "Darkest Hour" has a little something for every fan.
Asked to describe the overall meaning of "Darkest Hour," Yolanda writes, "It carries a message of loving your dark side. The side of you willing to go to war. The side of you which has been suppressed through conformity to the world. The side that is ready to explode. 'Darkest Hour' carries the message that the night is darkest just before dawn. Endure that dark hour because soon there will be light."
For Ms. Arrey, this message is not just something for a bumper sticker, it is a guiding principle for life's battles and struggles penning:
"From my personal experience," writes Yolanda, "when I venture towards a goal, I often fail on the road to success. Before I finally see the light, I must embrace the dark in order to appreciate the power of light. While I am in the dark, I will not resist it. I will accept it. I will love it. Knowing that dawn draws near."
"Darkest Hour" by Yolanda Arrey is now available on all major platforms including Spotify and iTunes with the music video made available on YouTube.
"Darkest Hour" by Yolanda Arrey –
https://www.amazon.com/Darkest-Hour-Yolanda-Arrey/dp/B086WXMPBR/
Official Websites –
Instagram: yolandaarrey
Spotify: https://open.spotify.com/artist/4shPHBg88kcOqcDGJow7JO
YouTube: https://www.youtube.com/channel/UClnZAuXmsosd-N8xWQHjSBg/videos
Apple Music: https://music.apple.com/us/album/the-bayou-a-new-life-deluxe-edition/1109874877
SoundCloud: https://soundcloud.com/yolandaarrey
ReverbNation: https://www.reverbnation.com/yolandaarrey