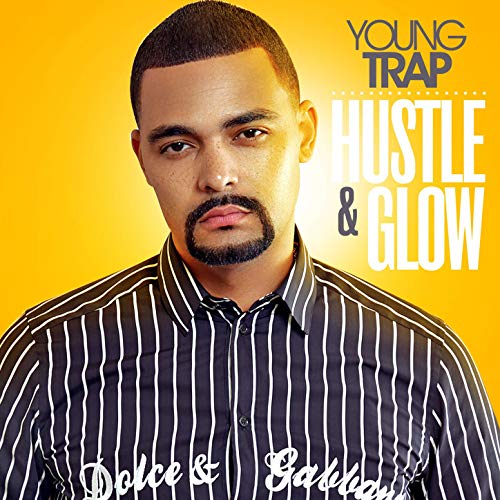 The songwriter and producer of hip hop known as Young Trap has released his latest official album, "Hustle and Glow" feat. Boosie Badazz and Too $hort. The album contains 11 original Young Trap tracks for an approximate total listening time of 35 minutes. It has been proudly published as an independent release without the involvement of the corporate music industry on the Debonaire Music Group record label. Smooth, smart, and bearing the unmistakable cadence of the Dirty South sound, "Hustle and Glow" showcases Young Trap as a creative and aggressively ambitious hip hop artist.
In addition to the considerable talents of Young Trap, himself, "Hustle and Glow" also features performances by Mizta CEO, J. Simon, Boneyafterparty, Kyree Sterling, and titans Boosie Badazz and Too $hort.
Memphis, TN's Young Trap cites as main artistic influences Tupac Shakur, Nas, T.I., Jeezy, Playa Fly, and Three 6 Mafia. Young Trap's own sound takes elements from each of these and adds his laid-back, yet assertive personality to the mix for a result likely to appeal to fans of modern rap everywhere. "Hustle and Glow" has also been compared to NBA Youngboy, Moneybagg Yo, NLE Choppa, Lil Baby, and Lil Nas X. With an emphasis on rolling grooves, rumbling bass lines and a metric ton of clever rhymes and lines, "Hustle and Glow" by Young Trap has something for every fan of the sound.
Asked to describe the overall meaning of his new record, Young Trap writes, "'Hustle & Glow' lets you into the life of a hustler. Growing up in the streets of Memphis, TN, you had to have the gift of gab. I talk about getting money and what I spend the money on in this album. The 'Hustle' is how you get it and the 'Glow' is what you got from it!"
Young Trap has been dropping official tracks since high school. His first works involved Grammy award-winning Memphis producer, Drumma Boy, in two installments from their project, Da Ridaz. Resulting success took him to Atlanta where he worked on his debut LP album, "Money Talk" (2010). He soon launched his Debonaire Music Group label on which he dropped a three-part mixtape series, "Debonaire Music." Since that time, recent Young Trap projects such as "The Cover Up" and "I Killed Yo Sh-t" have garnered thousands of streams on hip-hop mixtape sites. Young Trap has also crossed over with a dancehall mixtape, "Dance With You."
"Hustle and Glow" by Young Trap on the Debonaire Music Group label is available from over 600 quality digital music stores online worldwide now. Get in early, hip-hop fans.
-S. McCauley
Lead Press Release Writer
"Hustle and Glow" by Young Trap –

https://open.spotify.com/album/4i4C97IhgEaI5jZNyzwwI3
https://music.apple.com/us/album/hustle-glow/1471558514
Young Trap Official Instagram –