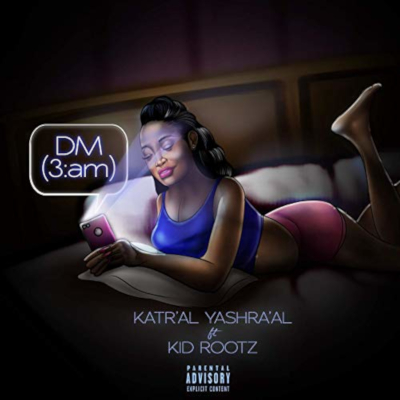 ATLANTA, Georgia, 2019-Sep-13 — /EPR Network/ —
The songwriter and producer of pop music known as Katr'al Yashra'al has released his latest official single, "DM (3:am)" featuring Kid Rootz. The single has been proudly published as an independent release without the involvement of the corporate music industry on the Daydrmrz record label. Cool, thumping, and bringing a blend of chillout and pop with trappings of hip hop, "DM (3:am)" showcases Katr'al Yashra'al as one of the most intriguing pop artists of Q3 2019 and promises he has plenty more where that came from.
Atlanta, GA's Katr'al Yashra'al cites as main artistic influences Coach K, Rico Love, Bruno Mars, Chris Brown, and Jay Z. Yashra'al's own sound takes elements from each of these and adds a uniquely modern, southern pop sound for a result unlike anything today's music fans have heard before. With an emphasis on danceability, undeniable hooks and a smooth vocal style, "DM (3:am)" by Katr'al Yashra'al has a little something for everybody.
Asked to describe the overall meaning of "DM (3:am)," Katr'al Yashra'al writes: "DM shares that love lasts through broken relationships and it can remain fun. There is no need to hide behind doors that your love is fighting through the barriers of your obstacles. So be with the one you love and do not settle for a direct message on social media."
Katr'al Yashra'al (born 8 September 1989 in Columbus, Georgia) is a Hebrew American singer-songwriter. Yashra'al's music tutelage came via an elder cousin, Eddie Tarver, a former vocal coach for Jagged Edge & Xscape. Recording Engineer Tyrone Huddson soon introduced Yashra'al to the Darp/Rowdy Family with whom he learned from multi-platinum producer Dallas Austin, artist BCOX, and songwriter Jasper. IN time he would sign with CTE's Coach K, who now acts as Co-CEO of Quality Control. After he encounted Production Team Trakkillaz, he began to hone his talents in earnest.
Katr'al Yashra'al's first major debut came in the form of a feature on Gucci Mane's 1017/Eskimo recording artist Ralo's Dairy of Streets 3. Yashra'al has provided lyrics and production for numerous artists across all genres in the Atlanta area and the UK. Yashra'al's most recent features include ShadDaGod, MarleyWolf, Kid Rootz, Mykko Montana, and Ralo.
"DM (3:am)" by Katr'al Yashra'al on the Daydrmrz label is available from over 600 quality digital music stores online worldwide now. Get in early, pop fans.
-S. McCauley
Lead Press Release Writer
"DM (3:am)" by Katr'al Yashra'al –

https://www.amazon.com/Katral-Yashraal-feat-Kid-Rootz/dp/B07WSZMRM4/
Katr'al Yashra'al Official Website –