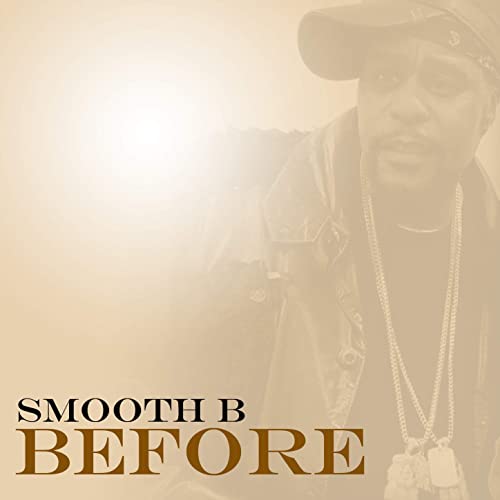 The songwriter and producer of rap and hip hop known as the Legendary Smooth B has released his latest official EP album, "Before." The EP album has been proudly published as an independent release without the involvement of the corporate music industry on the Barnes Entertainment, Inc. record label. Standing on the original old-school sound like a titanic monolith ten miles tall, "Before" showcases the Legendary Smooth B to a new audience of fans and proves he can bring the boom-bap back like nobody has yet.
Digitalradiotracker.com's Top 150 Radio Airplay chart for independent artists currently ranks the Legendary Smooth B at No. 10. On DRT's Top 200 Radio Airplay chart for major-label artists, Smooth B debuted at number 96 in his first week appearing there. It has been predicted he will reach No. 1 on both charts with DRT already preparing to honor him with a plaque. These accolades come as the MTV Network has also accepted his official music video and added it to their rotation.
The Bronx's Legendary Smooth B cites as influences mythic pioneers of the sound such as the Sugarhill Gang, Run DMC, Grandmaster Flash & Melle Mel, and Geto Boys, as well as his own sonic contemporaries such as Outkast, Public Enemy, the Notorious BIG, Bone Thugs 'n' Harmony, Ice T, Ice Cube, and his very close friend and brother, the late Tupac Malik Shakur.
On this new offering, "Before," the Legendary Smooth B's current sound takes elements from each of the above and adds his own inimitable power for a result which will capture 21st-century listeners and loyal fans of the 1980s alike. With an emphasis on slick, minimal beats, towering verbal aggression, and relentless rhythm rolling way deep in the groove, "Before" by the Legendary Smooth B brings the same MC tradition that was born on the streets of the South Bronx streets in NYC to those who weren't there, and with a contemporary polish, too.
Asked to describe the overall meaning of "Before," the Legendary Smooth B writes:
"In the past it was different. I did music because I loved it and it was my way to come up. Now it's even better. I'm working to bring today into tomorrow as well as combining the past into the future. I'm helping other new artists develop their music and sound so that they can have a long-lasting career like mine."
Smooth isn't doing it alone, however.
"I'm doing all of this with my long-time friend and brother, Matthew 'Big I-God' Williams," Smooth B says. "We started our own record label. Big I-God from the beginning was my Day 1 Runner and my Day 1 Stunner. We go back like car seats from the sandbox. He gets me and I get him. It's exiting! We can close our eyes and be worry-free and sucker-free!"
In talking about his ultimate goal in music, the Smooth B minces no words.
"To share the gift the Most High God's bestowed upon me with all of my brothers and sisters in this world," he says.
The Legendary Smooth B began his music career touring and recording with Bobby Brown as a background singer, rapper, and dancer. His hit singles over the years include "Hip Hop Junkies," "Sometimes I Rhyme Slow," "How to Flow," "Cake & Eat It Too," "Old to the New," "Return of the Hip Hop Freaks," and "Dwyck" feat. Gang Starr. Smooth B can also be heard singing on "Cheri" with Jo Jo Hailey (Jodeci).
He has since recorded with other notables such as Shaquille O'Neal and appeared on albums with fellow legends such as Ice T, Ice Cube, KAM, Mobb Deep, and many, many others. Between official music drops, Smooth B has appeared in feature films such as "Strictly Business" and "Who's the Man."
Smooth B's always expanding repertoire includes the eponymous "Nice & Smooth" on Fresh Records (1989), "Ain't a Damn Thing Changed" on Rush Associated Labels/Columbia (1991), "Jewel of the Nile" on Rush Associated Labels (1994), and "Blazing Hot" on Street Life Records (1997).
"Before" by the Legendary Smooth B on the Barnes Entertainment, Inc. label is available from over 600 quality digital music stores online worldwide now. Get in early, all you real and loyal hip-hop junkies.
-S. McCauley
Lead Press Release Writer
"Before" by the Legendary Smooth B –
https://www.amazon.com/Before-Explicit/dp/B085WK2KWB/

Official Website –