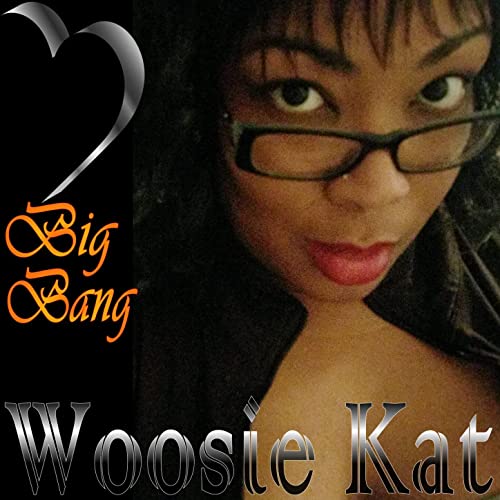 The songwriter and performer of pop, hip hop and modern soul known as Woosie Kat has released her latest official single, "Big Bang." The single has been proudly published as an independent release without the involvement of the corporate music industry on the Momma MAC Enterprise record label. Classy, catchy, and brimming with heart, "Big Bang" showcases Woosie Kat as one of the most intriguing hip-hop artists of the year so far and promises that she has plenty more where that came from.
Self-styled "Lady Rap Singer" Woosie Kat cites as main artistic influences Aaliyah, Queen Latifah, Mia X, Missy Elliot, Vivían Green, MC Lyte, and Keke Wyatt. Kat's own sound takes elements from each of these and adds a soulful tone like those of India Arie, Jill Scott, and Anita Baker for a result unlike anything today's music fans have heard before. With an emphasis on clarion vocals, evocative songwriting and a naturally poetic aesthetic, "Big Bang" by Woosie Kat has a little something for everybody.
"I was born into it," says W. Palm Beach, Florida's Woosie Kat of her career. "Music is not only in my DNA, it's a way of life."
Asked to describe the overall meaning of "Big Bang," Momma MAC Ent. writes, "This is an introduction to Woosie Kat: Lady Rap Singer and The Fire of MarLewTown."
Woosie Kat's current official bio notes that she was born Mary Shardae Lewis in Jackson, Mississippi in 1988. After moving her and her two brothers to South Florida, Woosie's mother "found a way to keep them entertained by teaching them to sing in harmony on long trips to visit family.
"Woosie soon discovered her own voice in music," it reads, "idolizing the the vocal styling and warm energy of the late, great Aaliyah in her adolescence. One day she decided to play around with a song by Slimm Calhoun. Her mother discovered that she could also rap and encouraged her to expand her talents and not limit herself to only one genre of music."
By 14 Woosie Kat had created her Lady Rap Singer persona, the one she lives out today. 15 saw her performing in popular RnB and hip-hop crew MarLewTown, whose debut EP, "They Call Us" appeared in 2013. Woosie went solo in time, leading her to this present release of "Big Bang."
"Woosie was raised to believe that everything in life is a choice," Momma MAC says of Woosie Kat. "Her choices push her to be true to herself and in turn true to her fans."
"Big Bang" by Woosie Kat on the Momma MAC Enterprise label is available from quality digital music stores online worldwide now. Get in early, hip hop fans.
-S. McCauley
Lead Press Release Writer
"Big Bang" by Woosie Kat –
https://www.amazon.com/Big-Bang-Woosie-Kat/dp/B082PG6CFK/
Official Website –