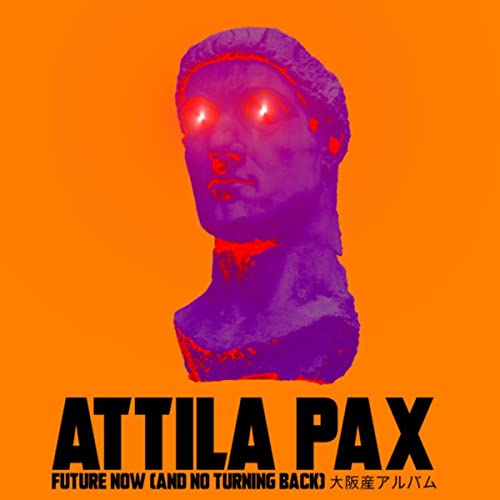 The songwriter and producer of electronica music known as Attila Pax has released his official debut album, "Future Now (and No Turning Back)." The album contains 11 original Attila Pax tracks for an approximate total listening time of a full hour. It has been proudly published as an independent release without the involvement of the corporate music industry. Both futuristic and retro simultaneously, "Future Now (and No Turning Back)" showcases Attila Pax as one of the most intriguing electronica music artists of the year so far and promises that he has plenty more where that came from.
Japan's Attila Pax cites as main artistic influences Chemical Brothers, Underworld, the Prodigy, Leftfield, Marilyn Manson, and Massive Attack. Attila Pax's own sound takes elements from each of these and adds something fresh and unique for a result unlike anything today's music fans have heard before. With an emphasis on catchy hooks, unique turns of melody and evocative, powerful beats, "Future Now (and No Turning Back)" by Attila Pax has a little something for everybody.
Asked to describe the overall meaning of "Future Now (and No Turning Back)," Attila Pax writes, "The main theme of the album is one of energy, a good or bad energy. It's the fear of the future and of the cycles ending."
This theme isn't an overt one. Rather, it is felt throughout the record in an eerie, ominous tone which fills the listener throughout.
"Maybe you can hear it in some of the lyrics," writes Attila Pax, "but most of the album is instrumental.
It is an invitation to deep dive into a dark and bright electronic album, with joy and sadness, peace and chaos."
Ultimately, each music fan will walk away from "Future Now…" with her own interpretation.
"Everyone will find a different message, or a different meaning, I reckon," Pax says.
Music has been the main way for Attila Pax to express himself since the young age of 11 when he began at bass guitar. That led to piano. Born 1991, he has spent the last 15 years "making music in my room, the music I couldn't listen to anywhere, the music I wanted to hear" by singing and with his guitars and piano. He performed in an electronic music duo 2008-2013 in Paris before finally going solo.
He describes his sound as "100% homemade electronic music with some rock influences, sometimes violent, tribal, energetic. Almost no samples except few voices. I work on a computer with a keyboard, singing into the computer microphone since I broke my mic a while ago. Sounds a bit dirty and I like it that way."
He notes that his style is influenced by 1990s Britain, but that he's "trying hard to give people something original – at least something they haven't heard 1000 times in clubs."
"Attila Pax is a newborn baby, naked and alone," writes Attila Pax. "Nothing much to say. Listen to it and figure it out."
"Future Now (and No Turning Back)" by Attila Pax is available from quality digital music stores online worldwide now. Get in early, electronica music fans.
-S. McCauley
Lead Press Release Writer
http://www.Octiive.com
"Future Now (and No Turning Back)" by Attila Pax –