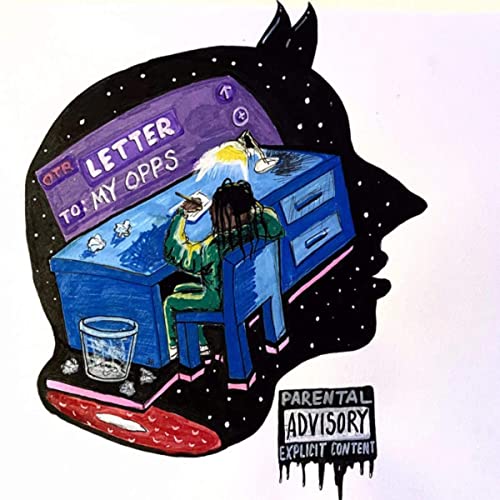 The songwriter and producer of trap and realistic rap known as November Louville has released his latest official EP album, "Letter To My Opps." The EP album contains seven original November Louville tracks for an approximate total listening time of half an hour. It has been proudly published as an independent release without the involvement of the corporate music industry on the OnTheRise Records record label. Built on old-school foundations but with a modern edge, "Letter To My Opps" showcases November Louville as one of the most intriguing southern rap artists of the year so far and promises that he has plenty more where that came from.
The Bronx's November Louville cites as main artistic influences Future, Lil Durk, and 50 Cent. November Louville's own sound takes elements from each of these and adds something fresh and unique for a result unlike anything today's music fans have heard before.
In addition to performances by Louville, himself, "Letter to My Opps" also bears the talents of a great many friends.
"Shoutout to everyone who was a part of this," November Louville writes. "I have one of my artists, she's a dope rnb, but like that real sh-t, type of singer. She goes by Ohheymay AKA Bagswag. She def was a great ear and good studio vibe through the creative process. My brother P. Different, who's my Stacca Fam family, is also on the project, and that's just one of the realist people I know – and well respected – so in this particular time period I was definitely building with him a lot and we both was just moving a certain way and felt a lot of the same views of enemy situations, so it was easy to bring that energy to the music and create what we did. That's why he's the only artist featured on the project. It was just a real and genuine situation."
Louville goes on to explain that "Letter to My Opps" is really kind of a side project.
"In reality, I'm finalizing finishing touches on my long-awaited project Switch Sides," he says. "I worked on so much music, I just kind of took all the vibes I felt and made this project as an appreciation to all supporters, all engineers and producers, from Elus to Loststudiostrev, Oneokey, Taylorbeats, Royalchilds, and Cashmoneyap."
Asked to describe the overall meaning of "Letter To My Opps," November Louville writes, "General theme is like, f-ck, people! Have a principle! Have a code. Stick to it and live the best life you could. Listen to the people who may not like you for whatever reason, I don't care, and this is the things that make me. It's like a letter to people who doubt or don't like you, and you're letting them know, like, listen this is me, and this is like a step into my life, and why I do certain things or my understanding on things."
Ultimately, November Louville is on the side of the music fan.
"I want my audience to leave with a confidence," writes Lou, "an energy of feeling invincible. I want my audience to feel like they can face anything and do anything the way they want to. I want them to feel wild, free, and motivated to just do everything major."
"Letter To My Opps" by November Louville on the OnTheRise Records label is available from quality digital music stores online worldwide now. Get in early, fans of real rap.
-S. McCauley
Lead Press Release Writer
"Letter To My Opps" by November Louville –
https://www.amazon.com/Letter-Opps-Explicit-November-Louville/dp/B088WGQBCD/