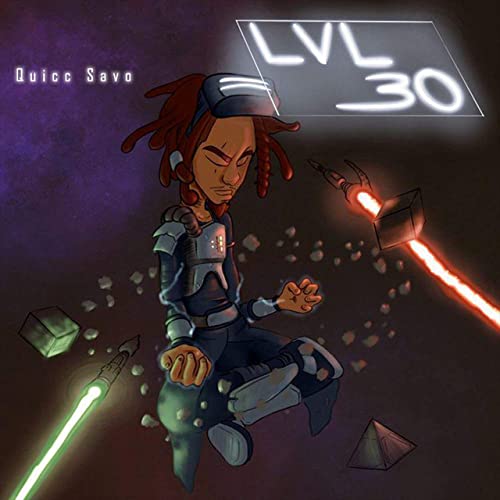 The videographer, songwriter, and producer of rap and hip hop known as Quicc Savo has released his latest official album, "Lvl 30." The album contains 17 original Quicc Savo tracks for an approximate total listening time of a full hour. It has been proudly published as an independent release without the involvement of the corporate music industry on the W.A.N.G. G.A.N.G Music record label. Filled with record scratches, futuristic back beats, and plenty of linguistic gymnastics, "Lvl 30" showcases Quicc Savo as one of the most intriguing rap artists of the year so far and promises that he has plenty more where that came from.
In addition to the considerable skills of Quicc himself, "Lvl 30" also features performances by Lil Knock, Psyfi Whodini, Bass Boi, Streez, Tootie Raww, Dbl R ReallyReal, Cvinchi, Jp Vlado, Lof Bossghetto, Dizz, and Mob.
Tacoma, Washington's Quicc Savo cites as main artistic influences Tupac Shakur, Mac Dre, and Bone Thugs 'n' Harmony. Quicc Savo's own sound takes elements from each of these and adds something fresh and unique for a result unlike anything today's music fans have heard before. With an emphasis on innovative sound techniques and an aggressive lyric flow, "Lvl 30" by Quicc Savo has a little something for everybody.
Asked to describe the overall meaning of "Lvl 30," Quicc Savo writes, "A lot of people reach a certain age and they start to feel like getting older is a bad thing. I think that's a horrible way of looking at things. Life is a RPG and I'm leveling up! Getting better and better as I go. This album is me at age 30, AKA Level 30. Divine love is the only thing that matters. Convert to Shairolism. Free the real."
Quicc Savo's current official bio describes him as a veteran creative artist for more than a decade who works primarily in film and video production. After a short enrollment at the Art Institute he ventured off and started Quicc Savo Films. His music repertoire includes five original albums, "Solo," "Solo 2," "Genius," "Cloutbot," and "Cloutbot 2.0;" four mixtapes, "Deity," "Uloops Boomin," "Vision," and "Everything Mainstream;" and 200+ videos on his official YouTube channel spanning over two million views.
"Lvl 30" by Quicc Savo on the W.A.N.G. G.A.N.G label is available from over 600 quality digital music stores online worldwide now. Get in early, rap and hip hop fans.
-S. McCauley
Lead Press Release Writer
"Lvl 30" by Quicc Savo –
https://www.amazon.com/Change-Explicit-trebangbang/dp/B085KVDDV3/