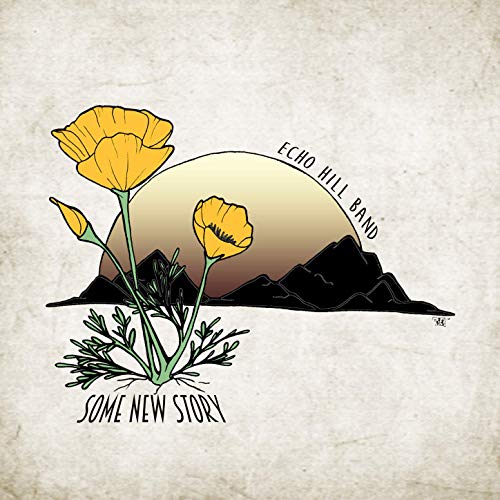 The indie folk group known as the Echo Hill Band have released their latest official EP album, "Some New Story." The EP album contains five original Echo Hill Band tracks for an approximate total listening time of 25 minutes. It has been proudly published as an independent release without the involvement of the corporate music industry. Narrative, soothing and sonorous, the"Some New Story" EP showcases Echo Hill Band as a satisfying and beautiful modern folk band and suggests many great releases to come.
Orange County, Calif.'s Echo Hill Band cite as main artistic influences the Avett Brothers, The Eagles, Edith Piaf, Brandi Carlile, and The Beatles. Echo Hill Band's own sound takes elements from each of these and adds a smooth, crystalline delivery for a result somewhere between the solo work of John Doe (X) and the Cowboy Junkies. With an emphasis on roll more than rock, low-key jazz guitaring and undeniably pretty vocals, "Some New Story" by Echo Hill Band has a little something for music fans who've ever dipped their feet in modern folk, Americana, or classic country-western music.
Asked to describe the overall meaning of "Some New Story," Echo Hill Band writes, "Woven into the history of our lives these songs are monuments of our struggles and triumphs. Together, we write some new story."
Echo Hill's own bio describes them: "From the ashes of Chris Dyer's Bless My Stars, mixed with Liz and Oliver McTan's folk duo Flowers for June, arose something no one expected. The storytelling tradition of folk, pop sensibility, the soul of rhythm & blues, some country twang, and the dust of the great "Tin Pan Alley" era of songwriting tradition all woven together make the sound we have come to love and know as – Americana."
"Some New Story" by Echo Hill Band is available from over 600 quality digital music stores online worldwide now. Get in early, modern folk fans.
-S. McCauley
Lead Press Release Writer
"Some New Story" by Echo Hill Band –
https://www.amazon.com/Some-Story-Echo-Hill-Band/dp/B07SZKNXGF/

Official Website –